COMERAGH WALKS
More than a place… It's a feeling.
Rathgormack is undoubtedly one of Waterford and Ireland's best kept secrets when it comes to walking. With its location just 5km north of the dramatic Knockanaffrin Ridge it is an ideal base to explore the Comeraghs. Four of the fourteen Comeragh coums (all adorned with lakes)-Lough Mohra, Coumduala, the Boolas and Crotty's-are less than 7km walking distance. Nearby also is the Gap and Bóithrín na Sochraide (old funeral path). This iconic feature is the highest pass in Waterford and has connected the area with the Nire Valley for centuries.
Whether you are looking for a challenging hike on the ridge, an afternoon excursion to one of the lakes or a ramble along a woodland trail such as Glenpatrick or Coolishal Wood then Rathgormack is the place for you. You will be pleasantly surprised by the variety of walks to be found in Rathgormack and the surrounding countryside. After your day's exertions, return to unwind at Rathgormack Hiking & Community Centre, stop off from some wonderful home baking at Comeragh Stores or pay a visit to our community run Village Pub and Coffee Shop. We are sure you will have a memorable stayin Rathgormack!
Bóithrín an Mhargaidh (Walk 1-2)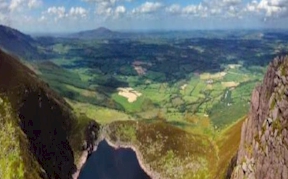 45 mins
2.5 km
Easy
Marked
Forestry roads, green tracks and laneways.
Clondonnell loop(Walk 3)
1.5 hrs
6 km
Easy
Marked
Forestry roads, green tracks and laneways.

Related Downloads
FOOTNOTE
For more information, be sure to visit 'Comeragh Mountains Magic' – a blog written by Michael O'Donoghue, our walks champion, regularly posting aspects of our wonderful mountains.